12 November 2006
The sponsor of our project
Gérard Chaliand

Writer and geostrategist
Adviser near the Center of Analysis and Forecast - Ministry for Foreign Affairs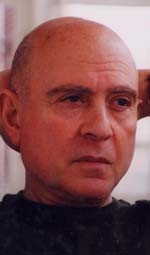 Gerard Chaliand passed more than twenty years in some 75 countries of Africa, Asia and America, from where it drew a series from investigations and tests. Man of ground above all, it was with the meeting of several national liberation movements: Algerian, Vietnamese, Palestinian or Afghan, to apprehend their fight of the interior.
Course:
-
Graduate of the national Institute of the languages and Eastern civilizations.
-

Doctorate of third cycle, university Paris V, Sorbonne,
Paris
.
-

Between 1980-1989: Lecturer to the ENA.
- Between 1993 and 1999 teacher at the Higher school of War, Paris.
- 1997-2000: Director of the centre European of studies of the conflicts, Foundation for the studies of Defence.
-
Since 1984: adviser near the centre of analysis and forecast of the Ministry for Foreign Affairs.


Bibliographie :
Gerard Chaliand wrote many articles in the national and international reviews.
He is the author of more than 35 works, of which:
- Puissances et influences, annuaire géopolitique et géostratégique(Powers and influences, geopolitical and geostrategic directory), co-dirigé avec A. Blin et F Géré, Paris, éd. Mille et une nuits, 2000
- Anthologie mondiale de la stratégie. Des origines au nucléaire (World anthology of the strategy. Origins with the nuclear power), Laffont, 2001
- L'Arme du terrorisme (The Weapon of terrorism), Audibert, 2002
- America is back : les nouveaux césars du Pentagone (America is back: new the césars of the Pentagon), avec Arnaud Blin, Bayard, 2003
- Mémoire de ma mémoire (Memory of my memory), Julliard, 2003
- De l'Esprit d'aventure (Spirit of adventure), avec Patrice Franceschi et Jean-Claude Guilbert, Arthaud, 2003